We were invited down by Geezer Butler to the O2 for the last London date of 'The End' tour, here's the interview with Geezer.
In Action
Geezer Butler and Head of Doom with new band Deadland Ritual
Ashdown | Setting the standard since '97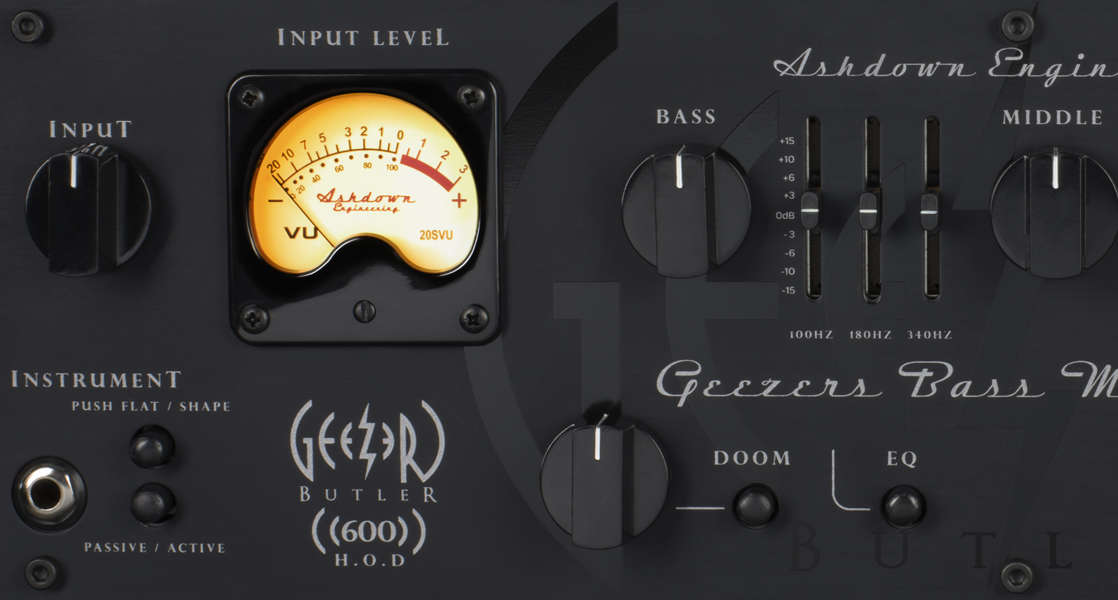 The Head of Doom has a deadly power section rated at 600 Watts RMS with two Neutrik speakon outputs. The power section has a minimum load of 4 ohms. The slave input on the rear is designed to be fed by the transformer-isolated outputs if running multiple heads from one input source. More heads - more doom!

From the top, the Head of Doom features a single instrument input linked to a passive/active selector switch. The passive input option (switch out) is high sensitivity and high impedance to suit the output from passive basses.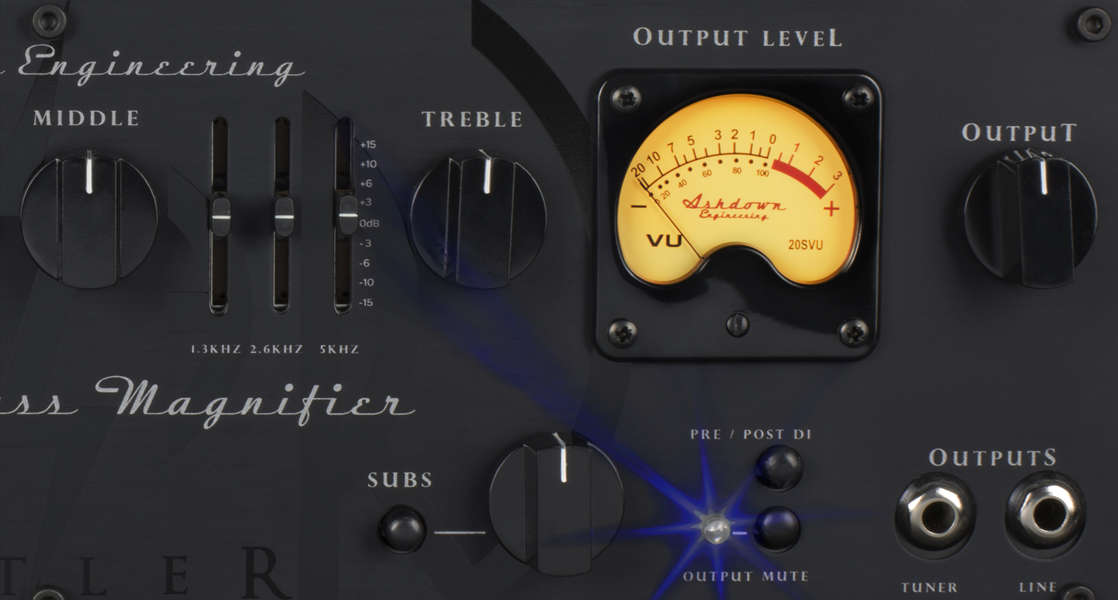 Dual VU Visual Monitoring
Perhaps the most obvious feature on the Head of Doom is its twin set of VU meters - the first Ashdown amplifier head of its kind. Not only does the head look like a daemon on stage, the second VU meter allows for output level visual monitoring. Now bass players can find the sweet spot for their instrument via the familiar input level VU. From there the player can tweak their tone via an experienced 9-band EQ and use the shape control to further sculpt their tone, all the while monitoring the output level at the same time via the second VU.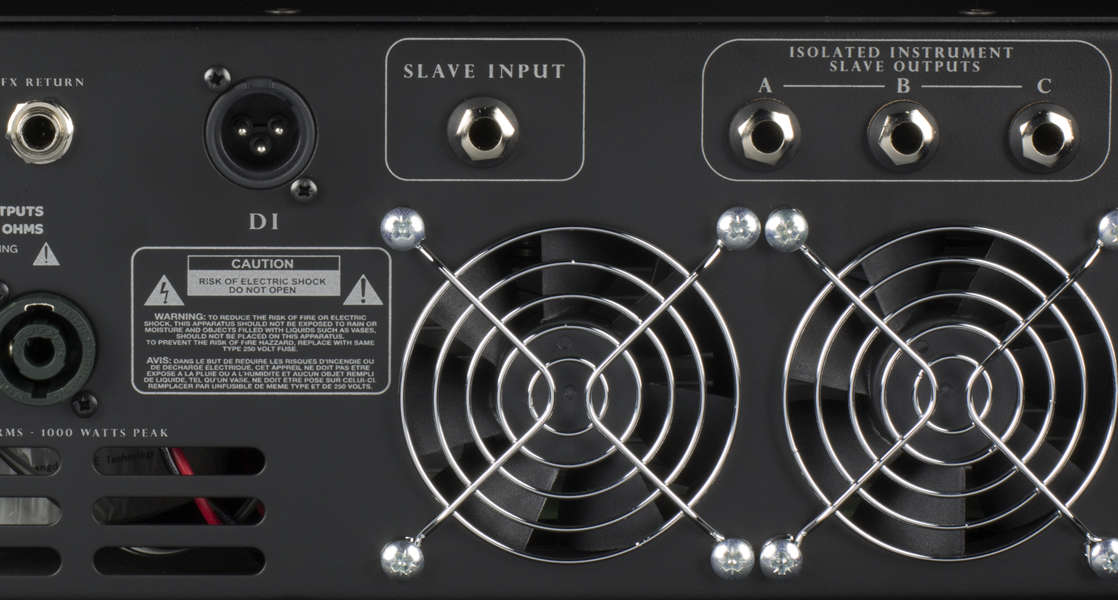 The Head of Doom is loaded with connectivity. A tuner output, line out, transparent FX loop and a line input for the connection of an external sampler or sound source. Output muting cuts the signal from the DI output but leaves the tuner output 'live', allowing the player to tune up in silence.

A pair of Neutrik Jack/Speakon sockets with a minimum 4 ohm load provide flexible partnering options so that the Head Of Doom can be used to power a single 8 ohm cabinet, a pair of 8 ohm cabinets or a single 4 ohm cabinet.

The Head of Doom's ins and outs continue even further, as mentioned earlier with three dedicated transformer isolated outputs with the option to slave from the dedicated slave input.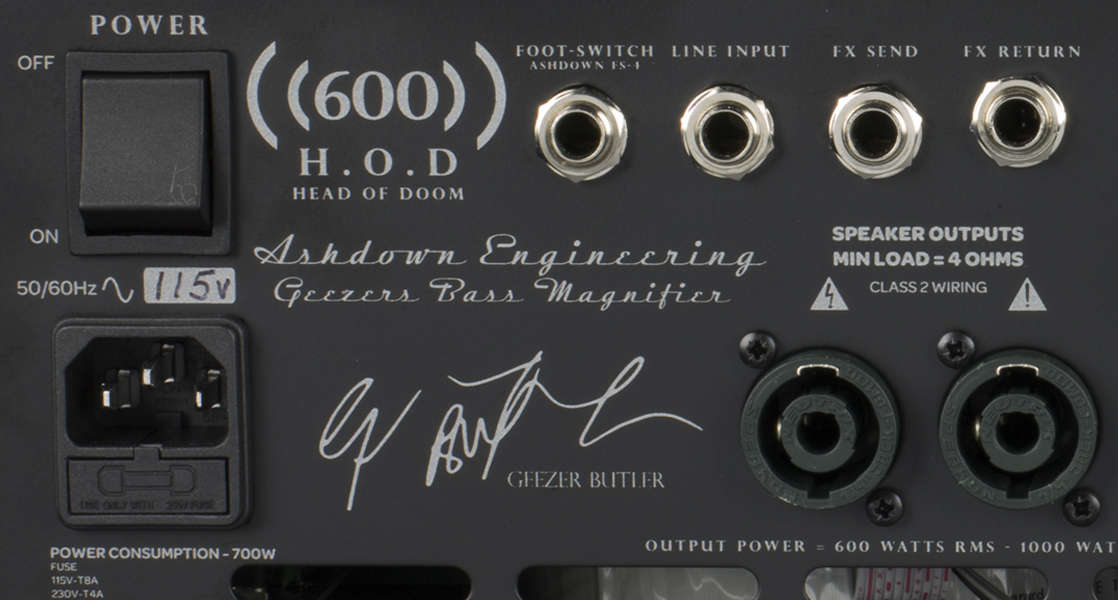 The 'Doom' control increases the current to the amp's 12AX7 pre-amp valve stage, like voltage through an electric chair, resulting in the richest harmonic distortion designed specifically for bass guitar. Used in conjunction with the amps impressive EQ section, there isn't much this amp can't deliver.

The Doom level control can be pre-set and kicked in and out via footswitch.
Specifications
| | |
| --- | --- |
| Power Output | 600 Watts |
| Power Requirement | 115-230 Volts |
| Speaker Outputs | 2 x Jack/Speakon outputs |
| Frequency Response | -3dB @ 17Hz und 30KHz |
| High Instrument Input | Impedance 3.9m Ohms, input range 150mV |
| Low Instrument Input | Impedance 10k Ohms, input range 300mV - 40V p-p |
| Line Input | Impedance 22k Ohms, input level 0dBu nominal |
| DI Output | 600 Ohm balanced, Level 0dBu nominal |
| Tuner Output | Impedance 22k Ohms, Level 0dBu nominal |
| Impedance | Minimum 4 Ohms |
| Effects Send | Impedance 22k Ohm, Level 0dBu nominal |
| Effects Return | Impedance 22k Ohms, Input Level 0dBu Nominal |
| Output Tubes | 1 x 12AX7 |
| H x W x D (mm) | 434 x 280 x 140 |
| Weight (kg) | 10.5 |
Resources