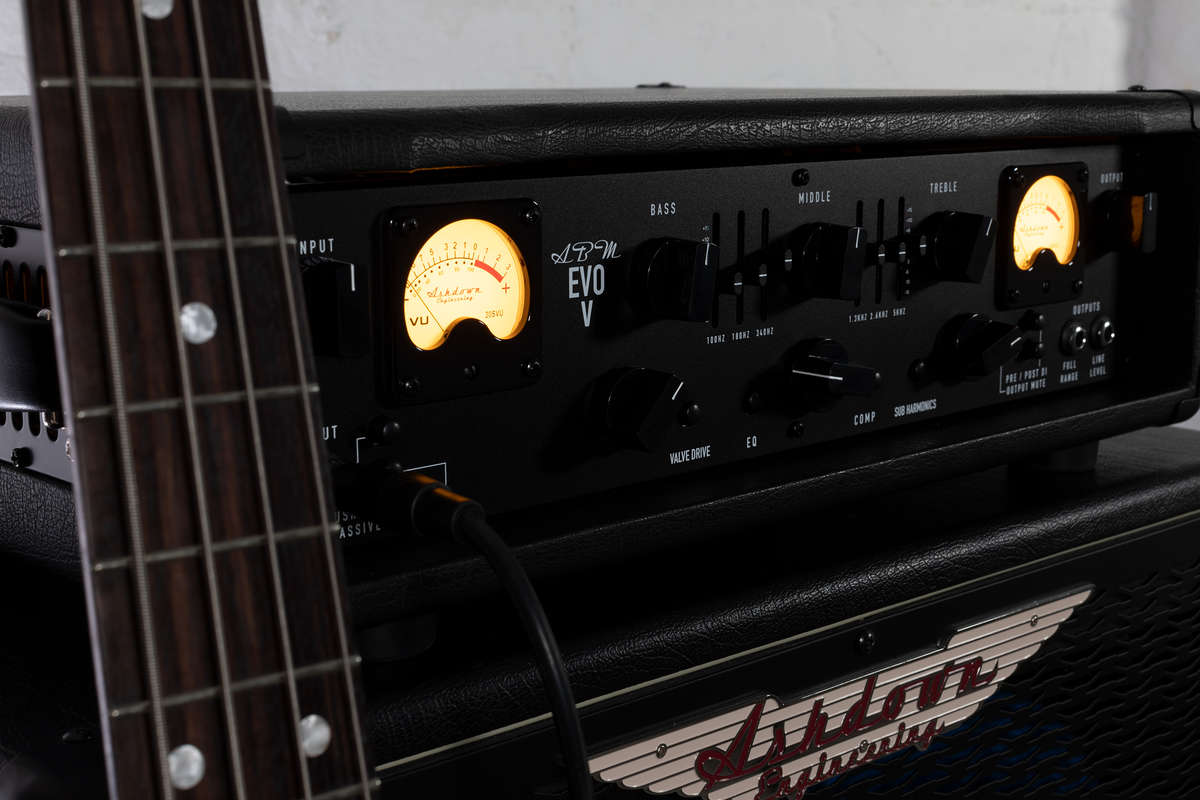 SPECIFICATIONS
Power Output - 750 Watts
Power Requirement - 115-230 Volts
Speaker Outputs - 2 x Jack/Speakon outputs
Frequency Response - -3dB @ 17Hz und 30KHz
High Instrument Input - Impedance 3.9m Ohms, input range 150MV
Low Instrument Input - Impedance 10k Ohms, input range 300mV - 40V p-p
Line Input - Impedance 22k Ohms, input level 0dBu nominal
DI Output - 600 Ohm balanced, Level 0dBu nominal
Tuner Output - Impedance 22k Ohms, Level 0dBu nominal
Impedance - Minimum 4 Ohms
Effects Send - Impedance 22k Ohm, Level 0dBu nominal
Effects Return - Impedance 22k Ohms, Input level 0dBu nominal
Pre Amp Tubes - 1 x 12AX7
H x W x D (mm) - 155 x 489 x 336
Weight (kg) - 13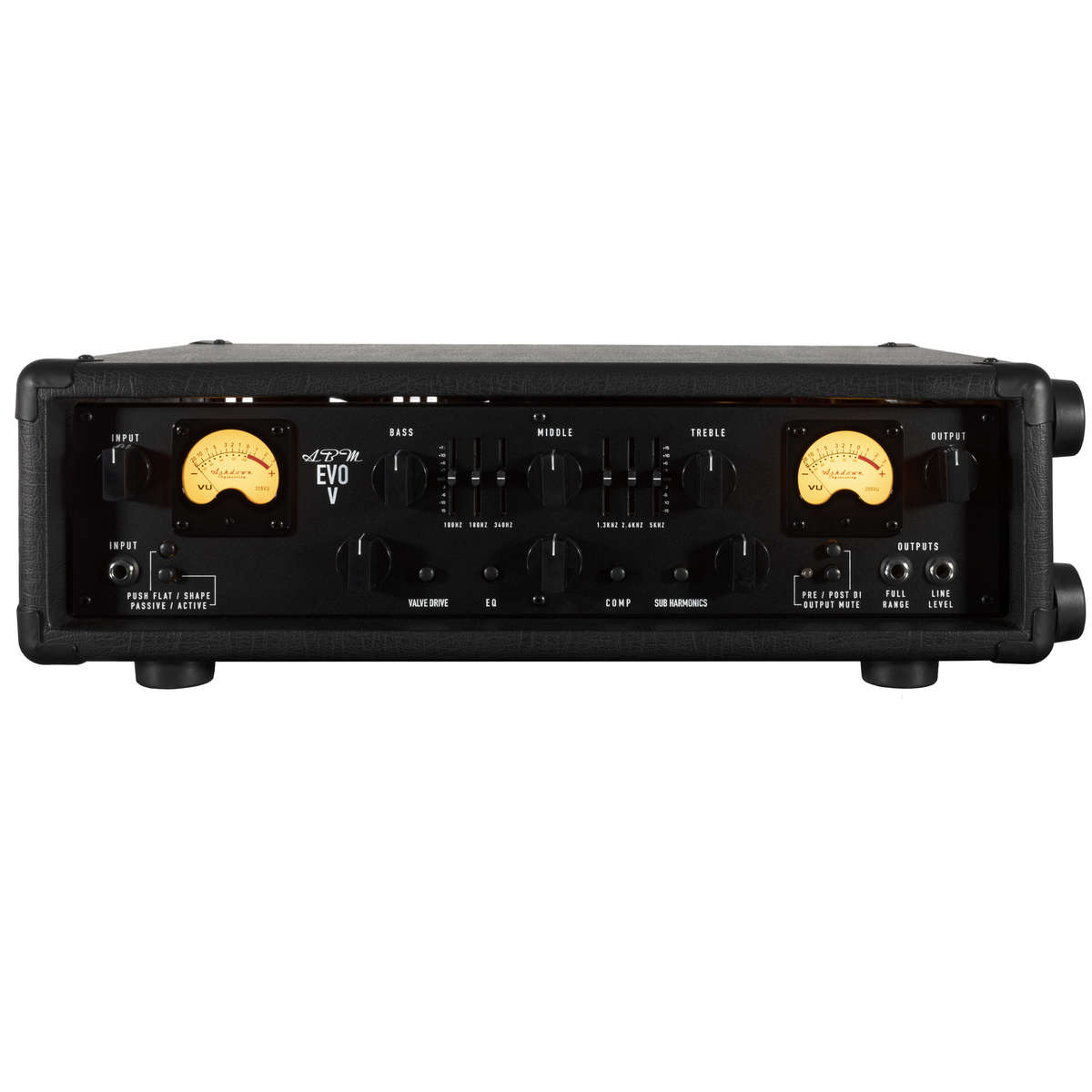 ABM EVO V
Traditionally sporting an ice-blue front panel, the ABM EVO V looks very different, moving to an all-black design that acknowledges the trend towards a more anonymous backline, although the trademark Ashdown illuminated VU meter remains very much in evidence. Indeed, the EVO V is the first ABM to feature VU meters for both input and output signals.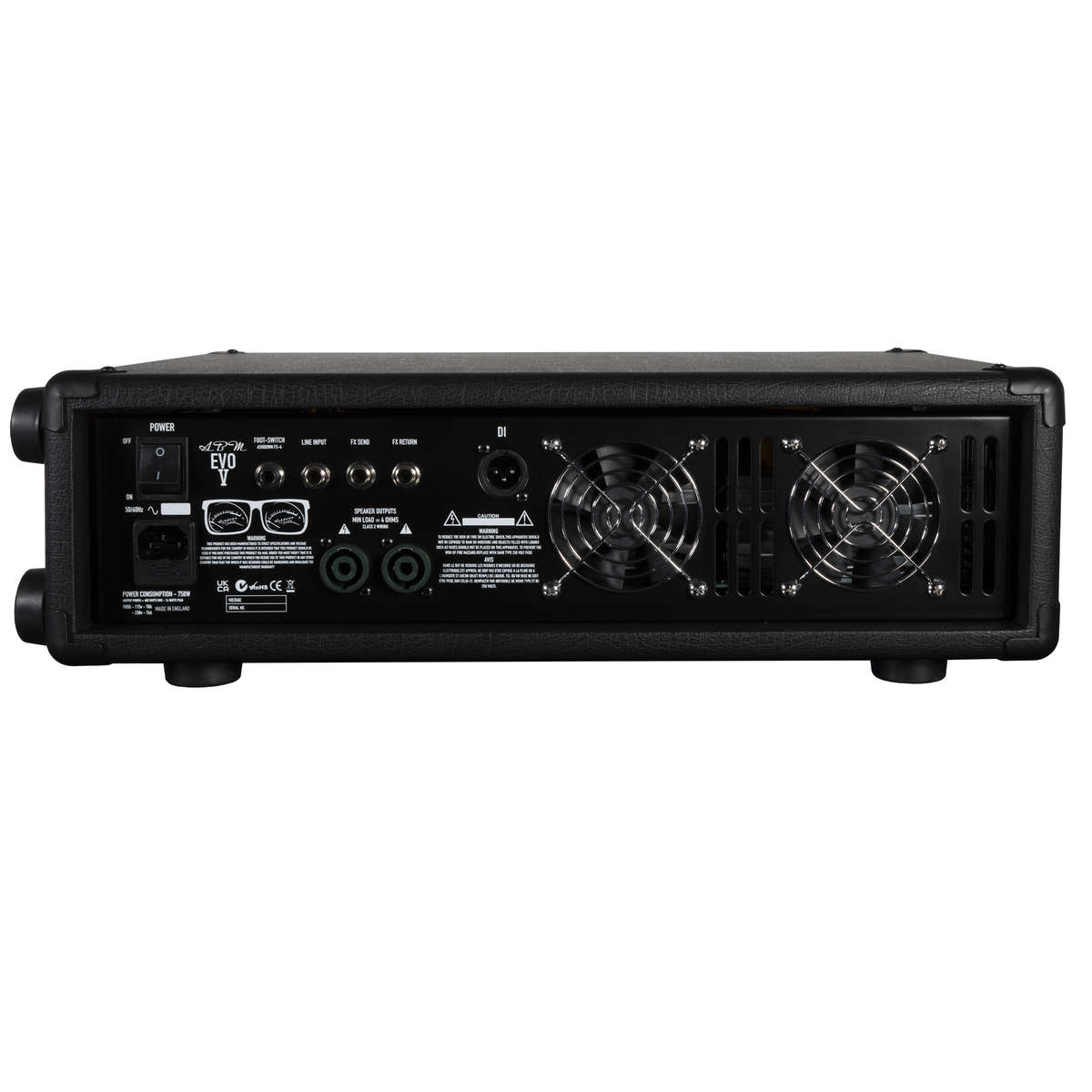 Behind the Tone
All the much-loved ABM features remain in evidence including 9 band EQ, 12AX7-powered Valve Drive, on-board compressor, and sub-harmonic control, with the UK-built EVO V adding mains voltage switching, temperature controlled low noise cooling and a transformer-isolated DI output.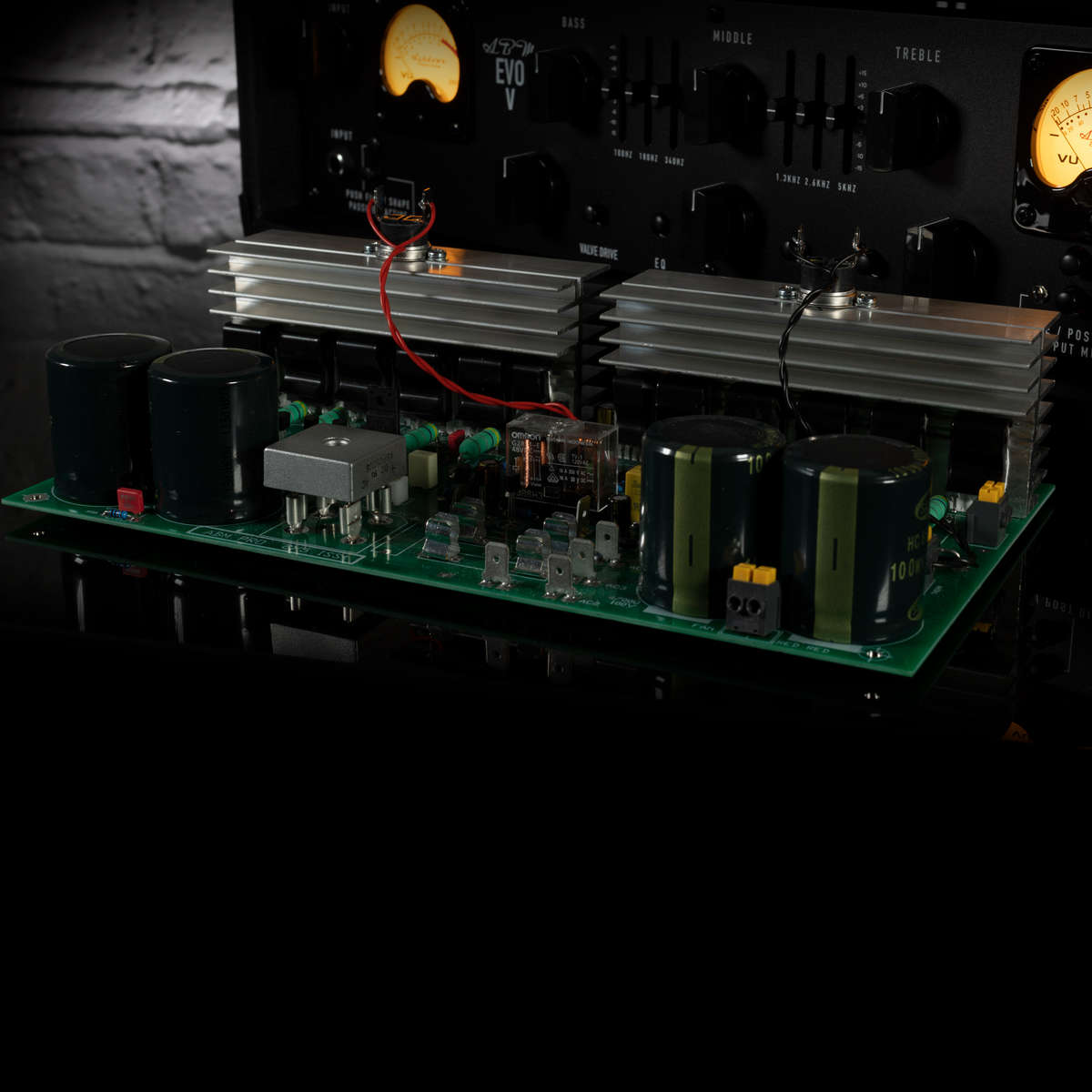 All about the Power
Under the hood, it's all about power and headroom. A new 750-Watt output section is the most dynamic ever used in an ABM, gifting the amplifier with stunning power and response.
| | |
| --- | --- |
| Power Output | 750 Watts |
| Power Requirement | 115-230 Volts |
| Speaker Outputs | 2 x Jack/Speakon outputs |
| Frequency Response | -3dB @ 17Hz und 30KHz |
| High Instrument Input | Impedance 3.9m Ohms, input range 150mV |
| Low Instrument Input | Impedance 10k Ohms, input range 300mV - 40V p-p |
| Line Input | Impedance 22k Ohms, input level 0dBu nominal |
| DI Output | 600 Ohm balanced, Level 0dBu nominal |
| Tuner Output | Impedance 22k Ohms, Level 0dBu nominal |
| Impedance | Minimum 4 Ohms |
| Effects Send | Impedance 22k Ohm, Level 0dBu nominal |
| Effects Return | Impedance 22k Ohms, Input Level 0dBu Nominal |
| Pre Amp Tubes | 1 x 12AX7 |
| H x W x D (mm) | 155 x 489 x 336 |
| Weight (kg) | 13kg |