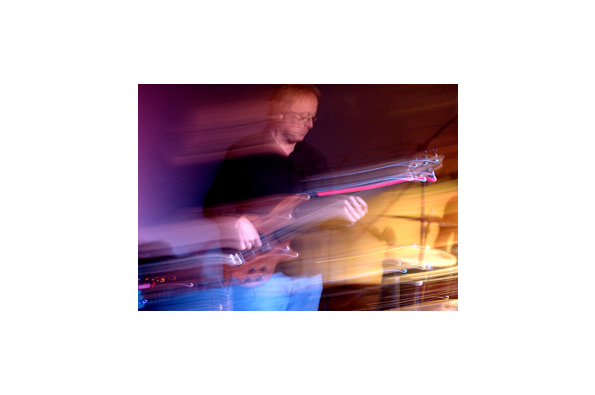 Dr. Robert Burns Ph.D, now an Associate Professor at Otago University, became a professional musician in the early 1970s
and performed as a touring and recording bass guitarist for American soul
artists such as Sam and Dave, Isaac Hayes, The Stylistics and Edwin Starr. In
the late 1970s he performed in the rock opera, Tommy, with its composer, Pete
Townsend of the Who and recorded for Jon Lord and Ian Paice of Deep Purple. He
became a session bass guitarist in the 1980s and played on several television
and film soundtracks such as Not The Nine O'Clock News, Three Of A Kind, The Lenny Henry Show,
Alas Smith and Jones, Red Dwarf, Blackadder, Mr. Bean, A Perfect Spy, and
French and Saunders among many other BBC and ITV shows. He also performed on
three world tours as musical director for Eric Burdon of The Animals between
1982 and 1986, as well as performing in theatre productions for Bjorn Ulvaeus
and Benny Anderson of Abba and Sir Tim Rice. Robert performed with Dave Gilmour
(Pink Floyd), James Burton (Elvis Presley) and Frank Gambale (Chick Corea)
between 1989 and 1996. He also recorded for Jerry Donahue (Joan Armatrading,
Fairport Convention) on his solo album, 'Neck
Of The Wood' and toured with Jerry between 1991 and 1997.
Nowadays in New Zealand, he performed
with jazz/fusion band Subject2change ('Subject2change'
(2008), 'Soundtracks and Inventions'
(2010), and 'Artiste'
(2014) and with The Verlaines 'Corporate
Moronic' (2010), 'Untimely
Meditations' (2013). Both bands have albums and a film that won a UNESCO award in 2015. Robert is proud to use Ashdown Engineering and have several Ashdown products. He has used Electric
Wood Basses and J Retro preamps since the1980s.



Robert lectured in
music at the University of Otago since 2001 specialising in rock music
performance, arranging, composition, music industry studies, and cultural
studies. He is now an Honorary Associate
Professor of Music at the School of Performing Arts at the University of Otago and his first book,
published by Manchester University Press, was published in January 2012. His second is 'Experiencing Progressive Rock: A Listener's
Companion' (Rowman and Littlefield (2018)), which includes interviews from
members of King Crimson, Steven Wilson, Nick Beggs, members of Colosseum, Van
Der Graaf Generator and many other prog bands from the 1970s to around 2017.



In addition, Robert has played on many vinyl and CD albums in
the last three years: The Verlaines' double vinyl album, 'Dunedin Spleen'
(Schoolkids Records (US) 2018); Strangers in the Room – A Journey Through The British Folk Rock Scene, track by Lifeblud 'Waxing of the Moon',
Cherry Red Records, June 2019; New Moon's in The Sky – The British
Progressive Pop Sounds, track by Lifeblud 'Bridge', Cherry Red Records,
September 2019.



Also, vinyl album, Esse Quam
Videri, Lifeblud, Seelie Court Records (UK), September 2020, re–released on
CD in October 2021.



Peephole in my Brain, track by Lifeblud 'So Be It', Cherry Red
Records Ltd, October 2020.



And on bass guitar, mellotron,
mandolin and vocals, a CD album Be Thou My Very Armour, Seelie Court
Records (SCD009), 2021.