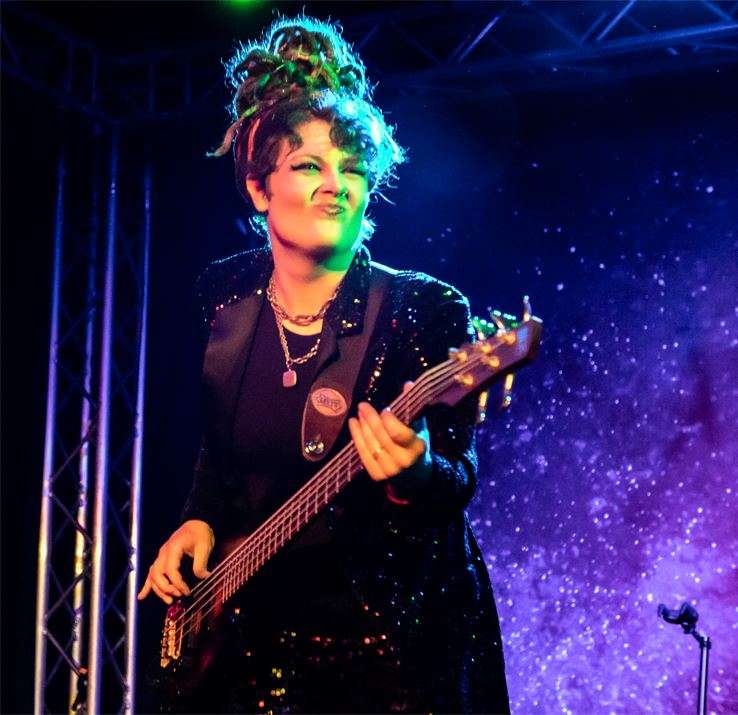 Lex Wolfe is a Los Angeles freelance bassist and producer known
for her "raw energy" and "highly athletic live performance" complete with two
feet of swinging dreadlocks. A natural pocket player, her style ranges from
tight funk grooves to tasteful pop licks and headbangin' rock riffs. Lex
started with cello lessons at age 3, adding instruments along the way—first
bass, then guitar, drums, keys, and production all followed. With credits that
include work with AXS TV, McDonalds, YouTube Studio, Revry, & Alert the
Globe; endorsements by Ashdown Engineering, GHS Strings, Bartolini Pickups &
Get'M Get'M Straps; and a BS in Neuroscience from University of Wisconsin, Lex
is a rare combination.



She cut her teeth as a hired gun, spending years in some of the most notable
music scenes in the country: Austin, Nashville, and LA. Wolfe jumped on tour
with Warped Tour vets Sick of Sarah, then fresh off the road with Heart & The
Bangles and the momentum of an album with over 1.7 million downloads. Ryan
Seacrest praised them as "The Next Joan Jett & The Blackhearts" on E!, and
AXS TV featured them on their music reality show Breaking Band with
icons like Belinda Carlisle & Dave Navarro. Wolfe spent the next few years
delving into Top 40s, songwriting, and Americana in the Nashville scene,
ultimately relocating to Los Angeles where she works with many artists,
including her recent production for McDonald's televised event House of Pride.
Deeply involved in the LA scene, you can catch Wolfe performing at one of the
legendary musician's jams on the Sunset Strip or empowering female musicians
with the all-women's collective Gritty in Pink. She regularly gigs around SoCal
with tribute bands to the rock greats i.e. Led Zeppelin, Aerosmith, Black
Sabbath, Rage Against the Machine; as well as countless original artists
including Fox Violets, Alexa Villa, Vedant Joshi, Flyght Club, and many more.
"So much talent, so much charisma,
and gritty rock and roll" ~ The Greene Room Magazine
"It's clear from Alexa's
digit-agility that she could have gone a million places with any run of notes,
but she knew enough to choose the best" ~ Maximum Ink
"Production that in turn leaves us
awestruck" ~ Buzz Music
"Slapping the funk right out of her strings" - Emmie Magazine
Lex Wolfe proudly uses...