Professional 100w Acoustic Combo with Reverb
Ashdown Engineering have a long standing reputation and heritage for building great sound- ing acoustic amplification.
Going back to their roots, Ashdown's AA acoustic amplifier range follows in the footsteps of some of the greatest acoustic amps ever made.
The Ashdown AA-100 combo (100 watts) echos the sound and look of the late 80's/early 90's, but with some nifty up-to-date features, ready to take on the modern-day acoustic performance.
From the top-down, the AA-100 constructed using high quality plywood, covered in Tolex vinyl and loaded with 4 UK made 5-inch Celestion Speakers, with the upper two speakers being tilted upwards in the cabinet for better on-stage monitoring.
Just as you'd expect from any Ashdown design, there isn't much they haven't considered when planning their new AA acoustic range. Bluetooth connectivity enables wireless audio to be played via a BT connected device for your practicing and listening needs. The AA range is exactly what acoustic players been waiting for... for over 20 years!
Ashdown | Setting the standard since '97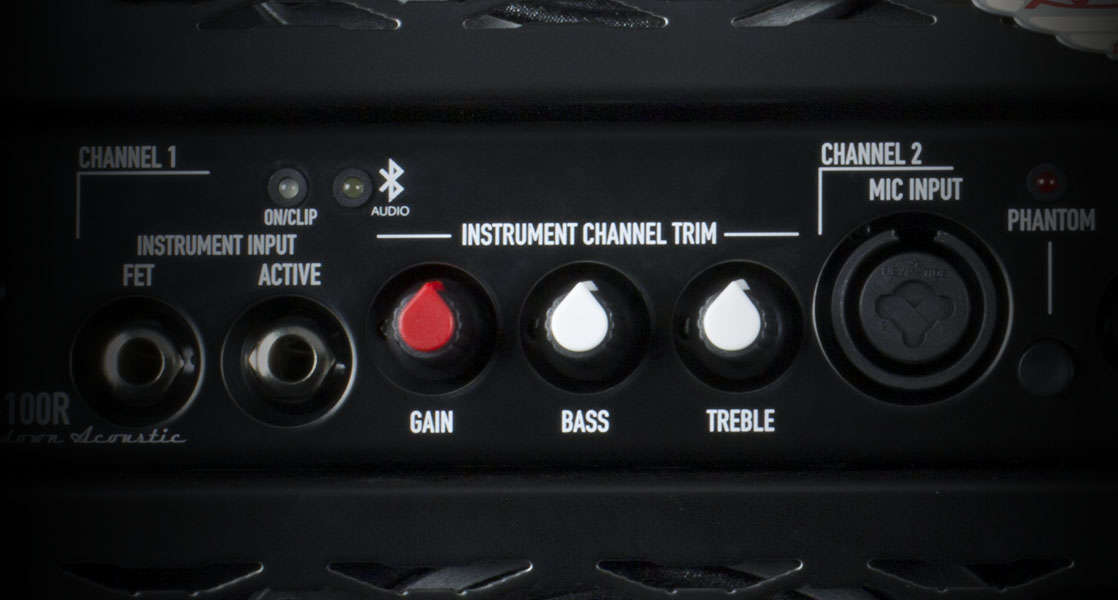 2 Channels for maximum flexibility
From left to right, the front panel encompasses a magnitude of well-organized and well-considered qualities. Channel 1 is the instrument channel and features Passive and Active inputs with Gain, Bass and Treble rotary controls. Channel 2, reserved for microphones, features a single XLR input with phantom power switch and gain control.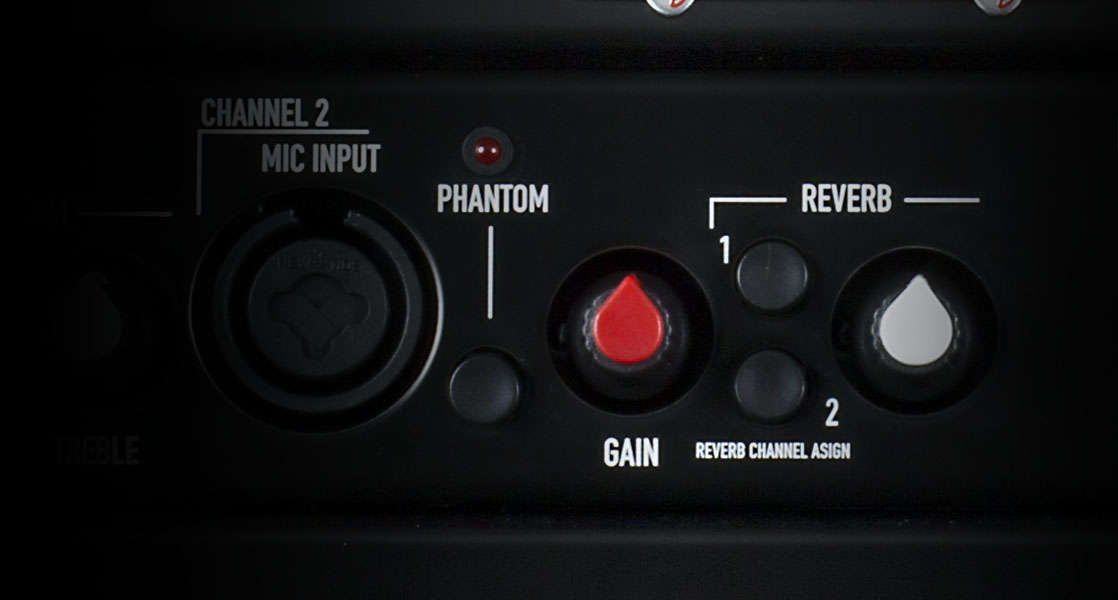 Perfectly partnered Reverb
The Reverb division allows for reverb to be switched on/off for each channel independently, whilst the sensitivity of the reverb is controlled with a single rotary switch for both channels at once.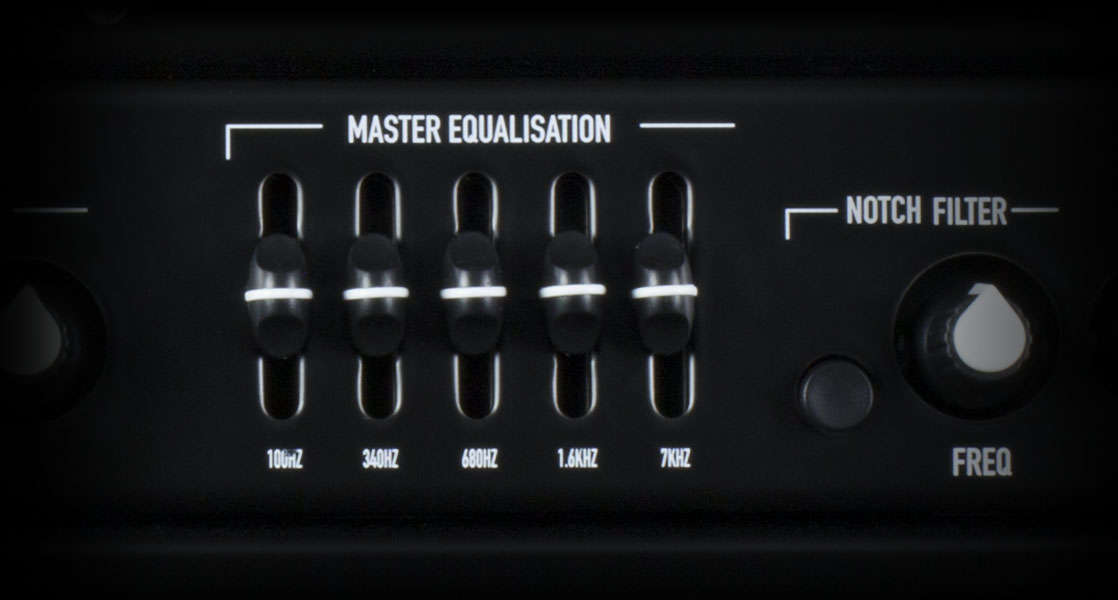 EQ designed for Acoustic Instruments
A master 5-band graphic EQ and adjustable notch lter makes it possible to ne tune your tone depending on your preference and room size, whist a 16 position rotary control lets the player choose from a host of pre-set reverbs from room to hall to delay settings, designed to thicken your natural sound when required.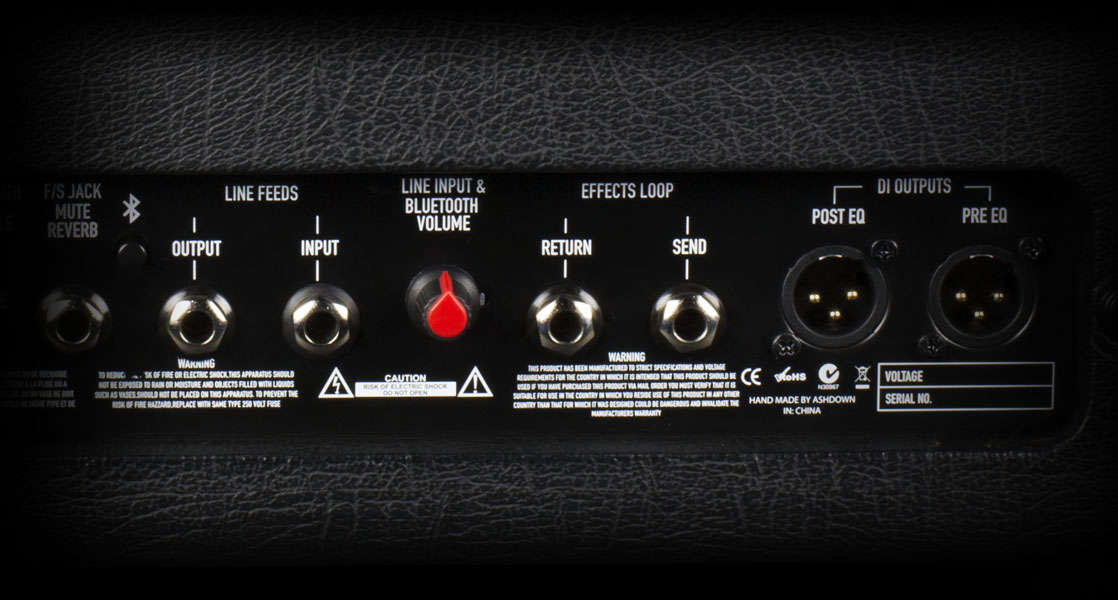 On the rear, post and pre-EQ XLR DI outputs allow the player to connect into a PA for larger gigs. There's also an effects loop to allow the player to use external effects in series with the signal chain, line input and output feeds, and lastly a balanced line input and built in Bluetooth for connecting audio devices and playing along with.
Specifications
| | |
| --- | --- |
| Power Output | 100 Watts |
| Power Requirement | 115-230 Volts |
| Speaker Outputs | 2 x Jack outputs |
| High Instrument Input | Impedance 3.9m Ohms, input range 150mV - 20mV p-p |
| Low Instrument Input | Impedance - 1M ohms Input range 150mv to 10v p - p |
| Line Input | Impedance 10k Ohms, input range 300mV - 40V p-p |
| DI Output | 600 Ohm balanced / Level -20dBu nominal |
| Impedance | Minimum 4 Ohm |
| Signal to noise | Better than 80dB (EQ flat) |
| EQ | Bass +/-15dB @ 100Hz Lo Mid +/-15dB @ 220Hz Middle +/-15dB @ 660Hz Hi Mid +/-15dB @ 1.6kHz Treble +/-15dB @ 7kHz |
| Effects Send | impedance 22k Ohm / Level 0dBu nominal |
| Effects Return | impedance 22k Ohm / Level 0dBu nominal |
| Weight (kg) | 13 kg (28 lbs) |
| Size(HxWxD) | 380mm x 435mm x 310mm |
Resources
5 Year Warranty
We're so confident in our amplifiers, we offer a 5 year warranty on all new products.
Built for the road
Perfect for gigging musicians, our products are built to last.